2-in-1 Electric weighted massaging heating pad for Back Pain Relief, 3 Warmth Settings, BPA-Free, Non-Toxic Beads, and Soft Micromink, Ideal for Back, Neck Pain, and Shoulder Pain or Cramps.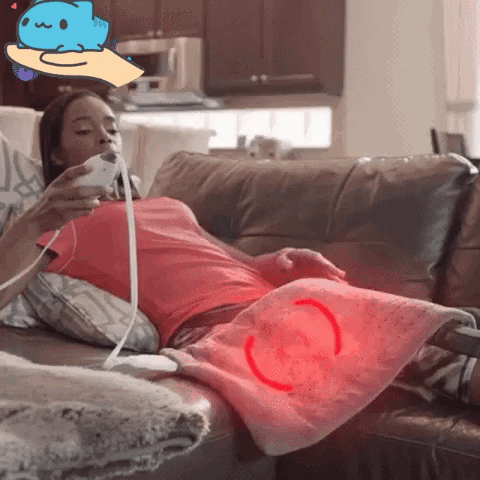 Calming Heat combines the benefits of weighted pressure with the soothing relief of an extra-large heating pad, plus massaging vibrations that can be turned on and off! The secret is the soothing heat that gets absorbed into the weighted clay beads, combined with massaging vibrations delivering soothing pressure therapy to muscles and joints.

Calming Heat can be used on a variety of body parts to provide a calming weighted pressure to temporarily soothe anxiety and to add optional warmth to help temporarily alleviate body aches. It helps to calm muscle aches, loosen stiff joints, relieve hand pain, and soothe menstrual cramps.
THE REVOLUTIONARY HEATING PAD THAT YOU'LL LOVE
SOOTHING HEAT - Offers 3 therapeutic heat therapy settings for custom relief
WEIGHTED DESIGN - Delivers the calming benefits of soothing pressure therapy
MASSAGING VIBRATIONS - Features three optional vibration settings for a massaging sensation
COMFORTING EXPERIENCE - It calms muscle aches, loosen stiff joints, relieves hand pain, and soothe menstrual cramps.
KING-SIZED COMFORT - It can be used on virtually any body part from your back to your arm
ONE-TOUCH CONTROLLER - The controller with an extra-long cord features 3 therapeutic heat settings & 3 massaging vibration settings
SOFT MATERIAL - Stitched with soft, luxurious material for added comfort
Natural Relief
Heat therapy helps relax muscles and promote blood flow to restore oxygen and nutrients to inflamed areas and help accelerate healing.


Super Soft Heating Pad & Natural Relief
Made from breathable microfiber to protect your skin.
Waterproof, Fit for Moist Heat Therapy
6 Therapeutic Settings & Fast Heating
Heats up in seconds and features 6 different temperatures for a custom heat therapy session.
Smart Temperature Control: Stop heating up and remain temperature after 2H using.
SPECIFICATIONS
Material: Cotton

Heat preservation time:  6 hours and under 

Power: 51-75W

Length:  60cm

Width:  30cm
PACKAGE INCLUDES
1 x SOOTHEPAD HEATING BLANKET
1 x  Controller
1 x Manual